Last week, I was checking out two e-commerce platforms to buy a room freshener. I use a lesser known (and less popular) brand. So, I was not surprised when the first platform flashed an out-of-stock sign. The second one listed it as available – but strangely the seller was the same as in the first platform. I went ahead and placed an order at the second site, only to get a mail two days later mentioning that the product was not available and that the refund has been processed.
How is it that one platform had an accurate view of the seller's inventory while it took two days for the other to figure out something is wrong?
Though both cases were disappointing for me, obviously the experience at the second platform was plain unacceptable. Both platforms had excellent user interfaces. I typed in the brand name in the search box... and bingo the product appeared right at the top. Ofcourse, after that the stories diverged.
User Experience (UX) is a hackneyed phrase these days. Every self-respecting organization has taken steps to make it pleasant for stake-holders to interact with them – Additional interaction channels, Simplified apps, Intuitive UI, Spot-on product recommendations, Psychological training for frontend staff, Location & product based store recommendations etc. The list is long, but what stands out is that all of them are improvements to the frontend/interface of the organization.
In way too many cases the backend has not kept up and/or has not been integrated. We still have dinosaur era operational practices tied to these space-age frontends. Imagine visiting a store based on product search results, and finding out that the item you are looking for is no longer stocked there. The problem is not confined to just customers. Few weeks back, there was a blog post by a seller about how she was struggling to get payments from one of the e-commerce platforms. The post went viral, forcing the senior management to apologize in the public forum.
What is often forgotten is that backend efficiency is likely to leave a far more lasting impression than an excellent frontend. Customers are more likely to tolerate an unwieldy UI rather than unpredictable shipments. Similarly, vendors will be more likely to give favorable terms for fewer order changes than for sending the order in a preferred format. To put it simply, operations defines the organization's UX more than anything else.
The paradox here is that most of these backend issues are not difficult to fix. Ironically the same big-data technology that fuels some of the front-end features can be used. Today, Business Execution Platforms like OpsVeda have the capability to acquire and process large amounts of data in real-time. So, not knowing the inventory on hand or the inventory position is unpardonable. For example future inventory of an in-transit item can be predicted with fair precision based on carrier and weather data. Further – in the event of insufficient inventory, past sales trends can be used to propose alternatives to the customer. Not just that, even exceptional situations like shrinkage leading to inability to service a confirmed order can be detected in real-time – Not two days later as with my e-tailer.
OpsVeda is a Real Time Intelligence solution focused on Business Operations. By enabling real-time supply chain execution, our clients are able to recapture a portion of the typical 10-20% of revenue and margins left on the table due to out of stocks, chargebacks, expediting goods, and missed deliveries.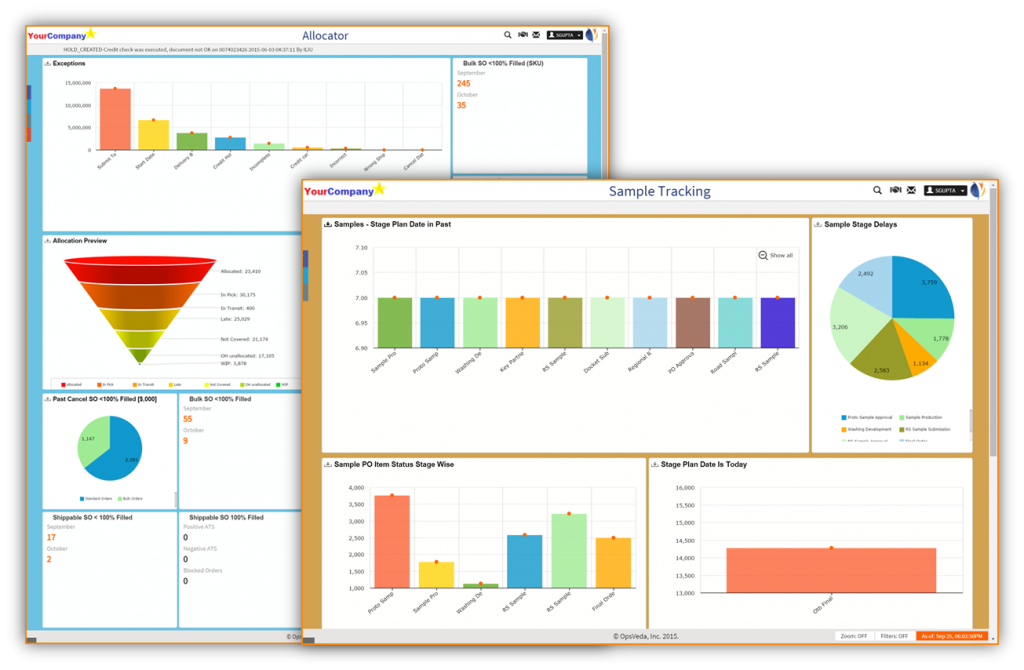 We do this by replacing reports sharing yesterday's results with storyboards providing real-time visibility to exceptions and opportunities that drive an improved tomorrow.
Still feel that operational fixes are difficult? Give us a ring and we will connect you to our customers. They will tell you how they improved operations and UX in a jiffy.
After all it is the same!!!