OpsVeda today announced the release of version 6.0 of its cloud based Business Execution Platform. This is a generally available version and incorporates a holistically redesigned user interface, improved performance and new business content.
Since its introduction, the OpsVeda platform has become an important tool for operations and supply chain teams to increase revenue and improve customer service levels. The platform performs scenario specific analysis of operational data in real-time to highlight exceptions, and to provide operations personnel with inputs they require to enable the progression of the problem transaction.
By enabling real-time supply chain execution, OpsVeda clients are able to recapture a portion of the typical 10-20% of revenue and margins left on the table due to out of stocks, over-solds, chargebacks, expediting goods, and missed shipments. OpsVeda achieves this by replacing reports sharing yesterday's results, with storyboards providing real-time visibility to exceptions and opportunities that drive an improved tomorrow.
"OpsVeda is on a mission to render 'self-service BI on stale data' obsolete, by providing real time automated storyboards to bring consistency in the way business decisions are made. Data should tell a story and provide an answer or highlight situations that need attention, not just spew out facts, figures, measures and charts. Stories help people make the right decision, especially when the underlying data is in real time. In the case of operations this is even more important because the operations user makes hundreds of decisions everyday," said Sanjiv Gupta, CEO of OpsVeda. He added, "Our new UX has been redesigned keeping in mind this story-board approach."
OpsVeda's new UX aims to mirror the priorities and daily work routines of the users. The new personalization also helps the users organize the storyboards based on their roles, responsibilities and priorities. Navigation has been redesigned to provide the user with answers / alternatives to problems at a holistic / process level. "Our guiding principle is that the user should be just one click away from the answer to the questions he or she has in mind. So, the system anticipates questions that operational users ask when they notice an anomaly," explained Venkatesh Appanna, VP of Engineering at OpsVeda.
Version 6.0.6 also improves the exception definition process. While the previous versions allowed users to define exceptions, the latest one makes it even easier and provides more out-of-the-box definitions so as to give the keys in the hands of the business user. Unlike traditional BI systems, changes to exception definitions are reflected immediately. IT does not have to "reload" the data for the exceptions to take effect. The moment the user creates a new exception or updates an existing one, the entire historic data is reassessed and the qualifying transactions and metrics get highlighted.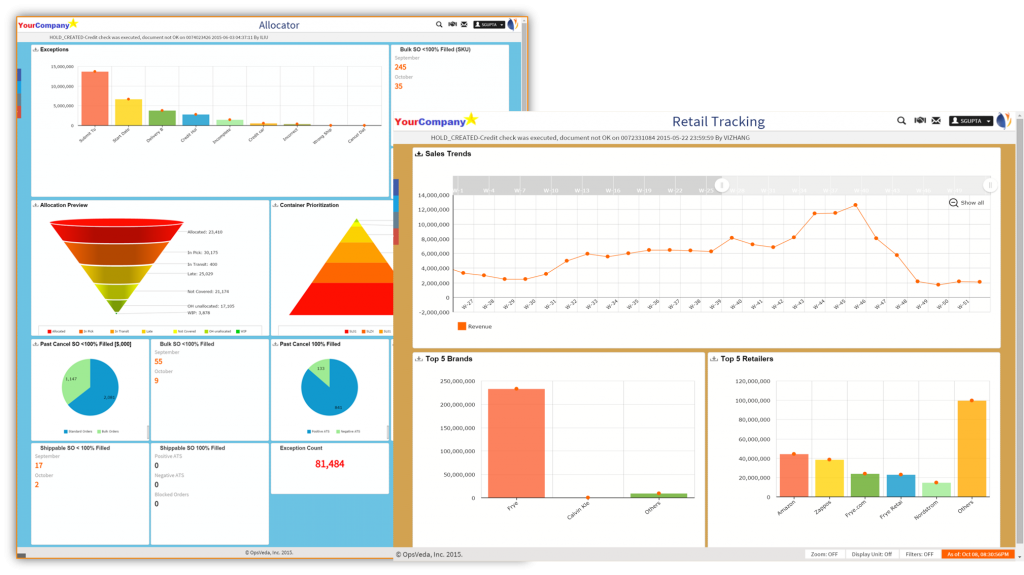 Key new features and improvements in 6.0 include the following:
Beautiful storyboards with in-context navigation, focused on user roles
Additional visualization and drill down options
Streamlined and easy switching between different perspectives of the same view. E.g. Fulfillment and Sourcing teams would want different views of the demand and supply status
Improved personalization.
Updated architecture with blazing fast performance
Expanded configurability in the hands of the business user
New business content for manufacturing and predictive maintenance
Enrichment of business content for lot genealogy and track & trace
Out of the box industry content for Retail and Apparel Footwear Supply chain, spanning samples, production, procurement, order fulfillment and logistics.
For more information on news release: Click here