By Ratheesh
Date: 27 Mar, 2018
3 Reasons why Retailers need an Operational Intelligence Platform
The supply chain is a complicated beast. From warehouse fulfillment through to the point of sale, there are a number of processes that can break down at any time and impact your business. Supply chain management monitors the flow of goods and services so you save time, reduce costs and provide better customer service. Here are three reasons why you need OpsVeda in 2018.
1. Increase Productivity in the Workplace JUNI
Supply chain management automates many of the processes associated with logistics, such as product fulfillment and demand management. Clever Operational Intelligence (OI ) software predicts supply and demand, so you can make better decisions, solve problems and identify issues before they happen. These programs monitor every stage in your supply chain execution, whether it's demand analysis, storage, transportation or consumer distribution.
This technology also reduces human error in the value chain. Research suggests that inventory in the retail sector is accurate just 63 percent of the time. With an OI platform, you can monitor key performance indicators such as service levels, holding costs and turnover in order to improve accuracy. You will also gain valuable insights into your inventory patterns. (Some products have shorter life cycles than others, for example.)
2. Make Accurate Predictions About Your Business
OI platforms such as OpsVeda provide you with powerful near real-time business intelligence about your logistics processes. These programs utilize predictive analysis, where statistical models forecast customer demand for products and services. As a result, you reduce waste, improve accountability and accelerate the time it takes for products to get to customers.
"When your business is able to incorporate supply chains, integrated logistics and product innovation strategies, you'll be in a great position to not only predict demand [but also] act accordingly," says the Academy for International Modern Studies.
Imagine you could predict customer demand and product revenue risk over the next month. Then imagine that these risk elements are made visible proactively. You would optimize your available warehouse space, improve your marketing campaigns and avoid low stock levels. An OI platform lets you do all of this and then some. Moreover, this technology is really easy to deploy. All the information you require to manage the production and distribution of goods is available in one place, so you don't need to continuously worry about integrating data through multiple pieces of software.
3. Improve Cooperation and Nurture Business Relationships
There are many moving parts in the supply chain. Suppliers manufacture products and get them to distribution centers, and then distributors transport them from the warehouse to your retail location. Finally, you sell these goods to customers in-store or online. OI tools optimize all these different workflows and track what suppliers and transportation companies are doing at any point in time. Consequently, you can nurture these important business relationships and work together to remove any weak links in the chain.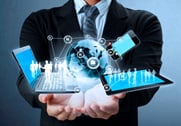 "At the University of Tennessee, our research shows that world-class supply chains benefit in many ways from collaboration -- even in times of severe economic stress," says Matthew Myers, writing for Supply Chain Management Review. "These benefits extend beyond improved efficiency and effectiveness to include helping all the supply chain members meet customer demands, grow markets, and increase competitive market share."
These are just three of the benefits of an Operational Intelligence platform for retailers in every niche. These programs increase productivity, predict future trends and nurture better relationships with suppliers and distributors. It's no wonder, then, that OI platforms will likely generate $2.6 billion in revenue by the year 2021.