By Dianna Bai
Date: 28 Apr, 2023
OpsVeda Recognized as a Top Business Process Management Software by Gartner's Software Advice
OpsVeda has been named a top-rated software solution in the newly released Software Advice's FrontRunners Report for Top Business Process Management Software of 2023.
This report evaluates verified end-user reviews, positioning the top-scoring products based on
their usability and customer satisfaction ratings. The FrontRunners methodology uses recent, published user reviews to score products on two primary dimensions: usability on the x-axis and customer satisfaction on the y-axis. Data sources include approved user reviews, public data sources and data from technology vendors. Learn more about the methodology here.
OpsVeda has earned an overall rating of 4.6 (out of 5). We have also been featured as one of the Top Business Intelligence Software solutions in Frontrunners' January 2023 report.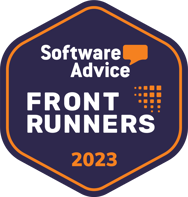 Check out what our happy users have to say about us:
"Amazing, making data review easy. Helping a lot for the operation side.
The accessibility to obtain large data in one site based on the specific
location request. Quick and easy to comprehend."

"Friendly user, easy access, daily auto-generate inventory report, very
helpful for daily operation. Live OpsVeda insights with near real-
time/current data. Trends Analysis based on the daily inventory changes.
-Helpful for cross-functional collaboration and better decision-making."

About OpsVeda
OpsVeda is an enterprise software company on a mission to make customer operations immensely agile and profitable, through operational intelligence and AI-infused automation. Powered by patented technology and passion for business agility, OpsVeda Operations Management System deliver predictive visibility and prescriptive automation towards opportunities, risks, and exceptions across the business functions of order fulfillment, supply, manufacturing, logistics, inventory, assets, and channel / retail.

About Software Advice
Software Advice is the leading online service for businesses of all sizes navigating the software
selection process, providing free, personalized software recommendations that meet their
business needs. Software Advice features objective research by industry experts and reviews
from validated users, saving buyers time and resources. Software Advice is a Gartner company.
For more information, visit https://www.softwareadvice.com/