Date: 16 Oct, 2020
Powering up Operational Excellence
What organizations really need is to see around corners—before they get to them. While the use of Robotic Process Automation (RPA) is growing in popularity, it is becoming increasingly clear that for better decision-making capability, some form of predictive intelligence must precede this.
In an ever more dynamic environment, the need for current, and even live, data becomes an extremely important matter. The problem is that often we are left to contend with data that is stuck in time. The past, specifically. Most traditional Business Intelligence (BI) and transactional (e.g., ERP) systems depend on data that is constrained by this "what happened in the past" perspective.
But what if there was a way to push data into the future? What if there was a way to make data more valuable and more responsible for decision-making? What if real-time data was included during critical business decisions?
The business value from a predictive intelligence layer to smart automation is massive and worth striving for. It depends on a proactive process monitoring solution.
Process monitoring for actionable insight
Good processes support good businesses, but growth brings challenges. As do environmental disruptions. The successful ones figure out how to grow and protect their routines and protocols as they expand, and deal with unexpected disruptions.
The bad news is that many process monitoring systems don't adequately contribute to good decisions. They provide data feeds with insufficient details, or worse, they are stuck in data silos—other functional data systems are unaware of their activity. For example, a sales monitoring system that sets revenue targets may not be fully integrated with the system that monitors shipping and container disruptions. In such a situation, the traditional remedy has been to employ some form of BI reporting to address anomalies and missteps. This inherently has the problem of dealing with data that is often stale.
The good news is that technology tools exist to assume much of the operational load for monitoring granular events within areas such as order fulfillment, supply management, logistics and manufacturing, and channels – irrespective of their level of integration. These tools enable manufacturers to "see" what is happening along every millimeter of the value chain as well as the performance at each step of the way.
If a process is mined, will that alone make a difference?
The risk is that a process mining system might be focused on too narrow an area. Or, perhaps, the events and data external to the organization do not get captured appropriately or in a timely manner.
Therefore, to meet a high standard of operational excellence, organizations need to synthesize process events from inside and outside the organization to a system engineered to make very good use of that insight.
Enrich Robotic Process Automation with Predictive Operational Intelligence
These days automation is what everybody, from the managers to the Board Room, is talking about. Machine learning (ML) and Robotic Process Automation (RPA) solutions are commanding sizable portions of the budget. If not approached in a purposeful manner this approach could end up being not the money saver it is often made out to be.
It is very important that good choices are made about which processes (and, hence systems) to target for RPA in order to get the biggest bang for your technology investment buck. Automating the most repetitive tasks may be a quick win but is not always the one with the greatest return.
Another important consideration is a capability to collect, integrate, and assess latent and real-time data with the aid of ML. Not many RPA and ML deployments include real-time analytics, but think of the value such insight would bring! For example, a just-in-time sales forecast model can add significant value to business operations. It allows management to make forward-looking decisions based on data from past periods and present events.
Operational excellence is about being able to "see around corners" and acting early.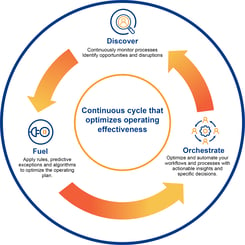 This type of value from automation comes only through a well-engineered optimization of possible desired outcomes, including those that are prescriptive in nature derived from operational intelligence and deep learning about the organization. Put simply, effective automation demands a disciplined "discover, fuel, and orchestrate" approach rooted in deep process knowledge. Which brings us back to a focus on processes and the operations that make them work for a business.
The strategic path to Operational Excellence
A foundational element of organizational effectiveness is the presentation of timely truth to people who need it—be they employees, customers, or stakeholders. Every operation should support that mission. Every aspect of the organization needs that ability, from the Accounting to Sales department, from the Shipping dock to the Boardroom.
The more proficient organization will be better at preparing and presenting data points that support smart decisions. In this context, "better" means having process monitoring that surfaces meaningful, useful data, and a predictive analytics layer that pushes the perspective to a confident forward-facing decision model which in turn can be the basis for intelligent automation. When systemic, enterprise-wide process monitoring is engineered to feed action-ready data to intelligent automation systems, humans are empowered to do better what they do best – make choices that improve the organization's value and impact.
At OpsVeda we are committed to enabling organizations attain operational excellence through highly performant technology that focuses on processes, and an intelligent and appropriately automated way to make the most optimal decisions that mitigate gaps and sharpens their competitive edge. We are ready to discuss your operational excellence aspirations. Let's talk.